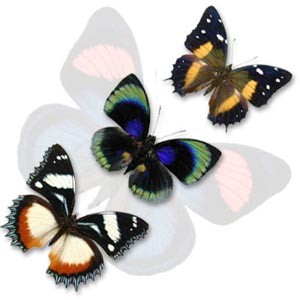 TERMS & CONTACTS


THORNE'S INSECT SHOPPE Ltd,


P.O.Box 684,
Lambeth Stn.,
London, Ontario
Canada N6P 1R2


Tel (519)-652-6696
Fax (519)-652-6259
e-mail tis@lonet.ca


All insects offered are dead, dried, folded and papered in envelopes, for you to re-hydrate and mount (spread) yourself. Any mounted or already spread specimens offered are listed under the mounted insects section. All pictures show what the specimen looks like once it has been prepared for display.
All pictures shown are representatives of the specific species listed. In certain subspecies renderings, pictures are not always available of particular subspecies. Sometimes there is quite a bit of variation within a species and we cannot show every type of different variant. Also please be aware that when photographed using a flash some colors can show slight differences. Butterflies, like humans, show differences.

All insects offered are legally imported into Canada. They are farmed or collected under government permission in the countries they come from and exported with licenses and quotas, and permits, where required. All managed by the wildlife authorities of those countries, to encourage ecologically healthy practices to ensure species survival and a renewable resource providing incomes in the exporting countries.
Because we ship all over the world it is up to the customer to be aware of any importing regulations within their own country and customers are responsible for any importing charges at their end.

Photographers and novices please see the Links section on the menu which provides tips on re-hydration and mounting specimens and other information about making collections. Please contact us before ordering.

As complete data as possible will accompany each specimen.
All prices are in U.S.DOLLARS.
Minimum order is $50.00 plus postage.
Canadian clients may pay in Canadian funds at the current rate of exchange against the USD.
On July 1, 2010, the harmonized sales tax comes into being for those provinces involved.
The HST varies according to which province you live in. Ontario is 13%

The HST or GST will be applied when the order is filled.
Residents in non HST provinces will continue to pay 5% GST (Will show as HST on invoice.)

In Ontario the HST will be 13%. (GST + PST).
No sales taxes are applied if you reside outside of Canada.


Payment may be made by:





Visa, Mastercard, American Express, (Please include card number and expiry date) The website ordering cart is secure for privacy. Credit card orders will receive priority handling.

Credit cards will be charged by manual input, not automatically upon submitting the order, at this end once the order is prepared.

Please do not use debit cards. Our system is not set up for this.

e transfer. Canadian customers can also pay by e transfer. Details upon request.

Please note that your credit card sales slip will show the purchase in CAD funds
Personal cheque in USA and Canada
Wire transfer direct to our bankers for orders in excess of 2000.00. Details upon request.
Western Union. Details upon request.
We do not accept Paypal, as we are a registered business and deal directly with the credit card companies.

Payment should accompany each order unless other arrangements have been made. Postage will be added at our end when the order is processed. See Postage and Packing rates listed below.
You will receive an email confirmation of the receipt of your order. Invoices are not generated automatically. The order form I receive is the actual invoice. Once it has been processed that invoice is placed inside the parcel for you to see what has been sent within the package. An advance invoice can be sent if requested.

Orders are processed on a first come first served basis.
In the case of any items that are out of stock by the time your order is processed adjustments will be made to the final totals to show that. Due to time constraints, if there is a significant number of species that are out of stock you will be notified otherwise the order will be processed, sent, and the adjustment made.

All material is guaranteed with the exception of antennae and leg damage due to postal shock.
Every effort will be taken to avoid postal shock by expert packaging.
Return Policy. Any merchandise to be returned should be done so within 30 days from date of sale after notifiying us first in case special arrangements are required.
There is no just-in-time delivery with insects. Please order in enough time for it to arrive to you comfortably. It usually leaves here within two days of receiving the order but we have no control over how long it may take, even using fast service methods, once it leaves here. Please refrain from asking me where the package is. It eats up valuable time. It gets there when it gets there. Please know that it is dispatched always as fast as I can do it. If it is delayed or we cannot get to your order fast enough due to heavy workloads, you will be notified. If you don't hear from us everything is normal. Again, once it leaves here we have no control over its journey.
SENDING TO CERTAIN COUNTRIES. Parcels sent to Russia will only be sent by a tracked method so it can be followed. The Russian postal service is very unreliable and often parcels take a very, very long time and are often not delivered or disappear somewhere. Russian clients are advised not to order unless they are willing to pay the costs of a tracked parcel. Even then, the risk will be the responsibility of the customer. The same situation will also apply to parcels sent to South Africa and Italy.


CITES

(Convention on International Trade in Endangered Species)
Insects listed in the catalogue with (C) after the name indicates that a Cites re-export permit must be obtained by Thorne's Insects prior to shipment. As of February 2012 The Canadian Wildlife Service has changed the Cites re-export permit procedure from Canada. We can no longer obtain the permits locally. They are now issued out of a central location near Ottawa. The process is now much slower. The time frame to obtain a permit now can be anywhere between 3 - 8 weeks. They are being received at the moment in about 3-4 weeks, but it could depend on how busy they are.
It is strongly recommended that because of the waiting time that you order all your Cites requirements at one time so they can all be put on the one permit and kept seperately from all other species.
Please note Customers in the EU countries need to have an import permit from their wildlife departments in order to legally import Cites listed butterflies into their country. You would have to wait until the Canadian permit is ready in order to make your application in your country as your wildlife would need to have a copy of the incoming permit in order to issue you your import permit. This is a very time consuming endeavour and you may not wish to go through this excercise. Due to this requirement no Cites listed butterflies will be sent to any countries that require an import permit.

For customers within Canada no permit is required.

TIS works within the framework of CITES. All materials offered are imported with the help and guidance of the Canadian Wildlife Service. Some species appear on Appendix II of CITES. While these species are not really endangered they might become so if not regulated. Any such listed species offered will be accompanied by a CITES re-export permit issued by the Canadian Management Authority. At the moment there is no charge for the permits, but due to extra travel time for permit validation at Canada Border Services, phone bills for applications etc... there will be a handling fee of $10.00 per order. This charge will not apply to orders within Canada. The original permit numbers will be supplied with the order if requested.
All insects are imported legally into Canada. Many countries now issue export permits with quotas on species hunted or trapped in the wild. Many of the species are raised or ranched on farms specifically for the industry, which provides a source of income in those countries. In this way habitat protection is recognized and the insects thought of as a renewable resource, giving great credence to the statement "selling insects to save insects".



PACKING AND POSTAGE RATES
As postage rates vary depending on size of package and where in the world it will be sent, and as rates do change from time to time,
postage is added by us at the time your order is processed.

In Canada and the USA we prefer to use the 4 - 5 day
Expresspost
or
Expedited
service, which provides tracking numbers for tracing.
Canada
USA

Under 500 g

12.00 - 18.00
22.00

500 g - 1000 g

14.00 - 25.00
22.00-30.00

International parcels are sent via small packet airmail

Under 500 g

14 - 20.00

500 g- 1000 g

25.00


There is no longer any registered small packet airmail able to be sent overseas from Canada. The only trackable services are Express post and Expedited post to USA and in Canada.


There are now trackable services available to many countries. Quotes for your order upon request for these services.


There is International Expresspost (EMS - courier type through the post office). This is trackable and fast. This service is not available to some countries. Please check with us for this information.

EMS starts at 55.00 for packages under 250 g. Please let us know if this is the service you wish us to use..

There is also a trackable service to most countries, but not all, from Canada. This is less expensive than EMS.


Postage rates are subject to change.
QUALITY CODE


| | |
| --- | --- |
| A1 | As perfect as all reasonable expectations dictate. Many are ex-pupae bred. |
| A1/A1- | Virtually perfect and fresh. A minor flaw or so. Sometimes only antennae damage. Excellent quality at significant savings. |
| A1- | Flaws, but generally respectable. |
| VGA2 | Very good second quality. Usually easily repairable. Sometimes accompanied by spare parts. |
| A2 | Definite second quality. Usually a good representative specimen but far from perfect. |
Morphos
Most species of Morphos have the abdomens removed from them in the field by the collectors. The reason for this is that many Morphos store fats from their larval days in their bodies. The grease stored in the abdomens tends to leach out and discolour the wings making them a black, greasy mess. While this can generally be removed by immersing the insect in fresh, clean acetone for an hour or two, this problem is prevented by removing the abdomens. Many times the abdomens are not sent with the specimens from the source. So if you wonder why some Morphos have no abdomens with them this is the reason. This problem does not seem to be prevalent in the females.
Saturnidae
Some species, particulary the males, also exude oils over the wings. Many Saturnid suppliers are now sending the abdomens seperately with the specimens. If this is the case, the abdomen can be degreased by soaking in acetone for about an hour or so, then air dried. It can then be re-attached to the specimen using an ordinary white glue. This prevents discoloration of the wings by grease. The females seldom have this problem.
ABBREVIATIONS USED IN THIS CATALOGUE
| | |
| --- | --- |
| M | male |
| F | female |
| P | pair (male and female) |
| EP | ex-pupae, reared or farmed. |
| S | set (a specially priced set of more than a single item at a discount) |