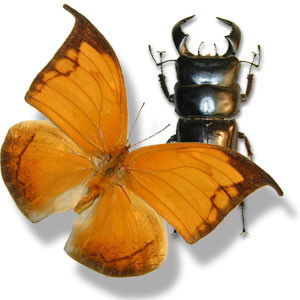 QUANTITY LIST
The quantity list offers wholesale quantities to dealers, artworkers and all interested parties who wish to purchase material in bulk lots. A minimum of 20 specimens per species is required for these prices, unless otherwise noted on the list. Prices are in US$ and are for males only unless indicated. Prices are listed as per each specimen. As stock changes the additions will be posted, so please check on a regular basis for what is available. Material listed in the main catalogues can sometimes also be obtained in quantity. Please ask for quotes and availability. Prices are subject to change due to changing prices from suppliers, permit fees and transportation. Postage is extra and will be billed according to the size of the package.

The specimens classed as A1 will be in that condition generally. However, due to the numbers of specimens involved these species cannot be individually checked for quality and one may find some imperfections in the odd specimen. For example, antennae may not always be intact.


---
[home] [catalogue] [rarities & aberrations] [new arrivals] [quantity list] [terms & contacts] [info updates] [events] [links] [about us]

Copyright © 2001-2012 Thorne's Insect Shoppe Ltd.. All rights reserved.